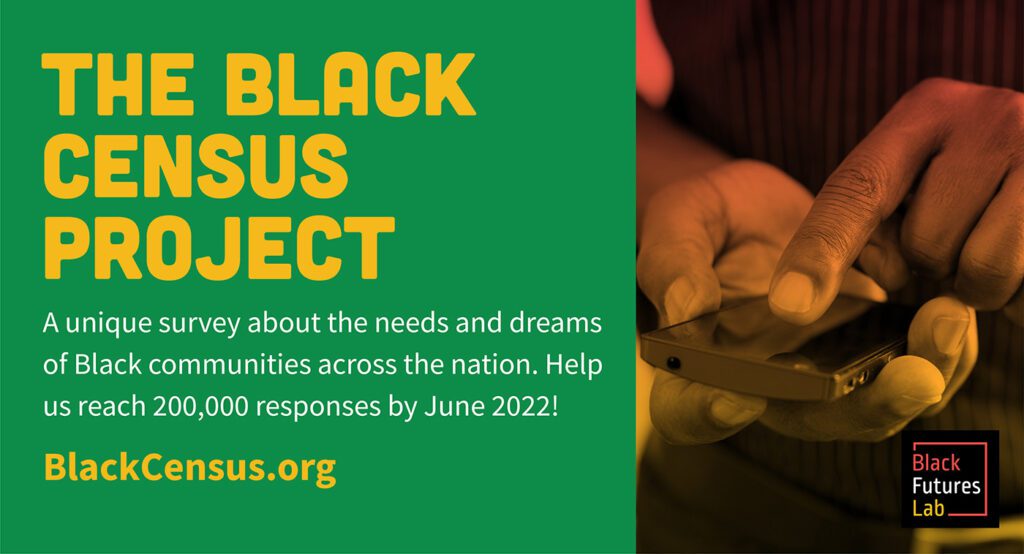 A unique survey about the needs and dreams of Black communities across the nation. Help us reach 200,000 responses by June 2022.
Get all of your voter registration information here and find out what's on the ballot in your state
In the fight to make Black people powerful in politics, it's going to take all of us to win. Take action with us!
Support Black Futures Lab
Please click the button below.
Who We Are
The Black Futures Lab transforms Black communities into constituencies that change the way power operates—locally, statewide and nationally. The problems facing our communities are complex—the solutions require experimentation, innovation and political power. We deserve a government  that represents us, policies that improve our lives, and politics that reflect our lives.
Black Census Project
The Black Census Project is the largest survey of Black people in America in 157 years. Tell us what you experience and what you want to see done about it. In just 10 minutes, you can make sure your voice is heard.
Black to the Future Public Policy Institute
The Black to the Future Public Policy Institute is a policy advocacy and leadership training fellowship that provides the tools needed to transform Black communities into constituencies that wield independent, Black political power at the municipal, state, and federal level.
Meet Our Advisors
We have an amazing team of advisors and thought partners that help us shape our strategies.
"Black people have always played a role in unlocking the promise of an America that has not yet been realized, and if there was ever a time to tap into that power–it's now."