Updates from the Black Futures Lab
Hello!
It's been a little more than 2 months since we launched the Black Futures Lab — and we've been humbled by your response! We've been hard at work here at the Lab, cooking up new ways to engage Black people politically and build our power. We're excited to share our work with you, and appreciate all of the support you've given us so far!
We can't wait to share a little bit of what's been going on with us, and how you can get involved.  Here, we're talking about how our launch went, training Black organizers, and what's next for the Lab! Take a look and tell us what you think: holla@blackfutureslab.org
Our Black future is looking bright — and it's all because of you! Thanks for all of your support, and read on to find out what we're cooking up at the Lab!
With hope,
Alicia and the Black Futures Lab team (Robbie, Demetria and Brittany)
LAUNCHING BLACK FUTURES
The Black Futures Lab and the Black Census Project launched on February 26! More than 2500 Black people took the Black Census within the first week of the launch, and to date, nearly 5500 Black people have taken the Black Census online!
We got some great coverage and some of our friends used the opportunity to lift up our work on their own platforms. Check out some of our favorite hits on the Black Census project:
And a full page in Essence Magazine this month
the Black Futures Lab and the Black Census Project is #1 of 10 things Essence magazine is talking about: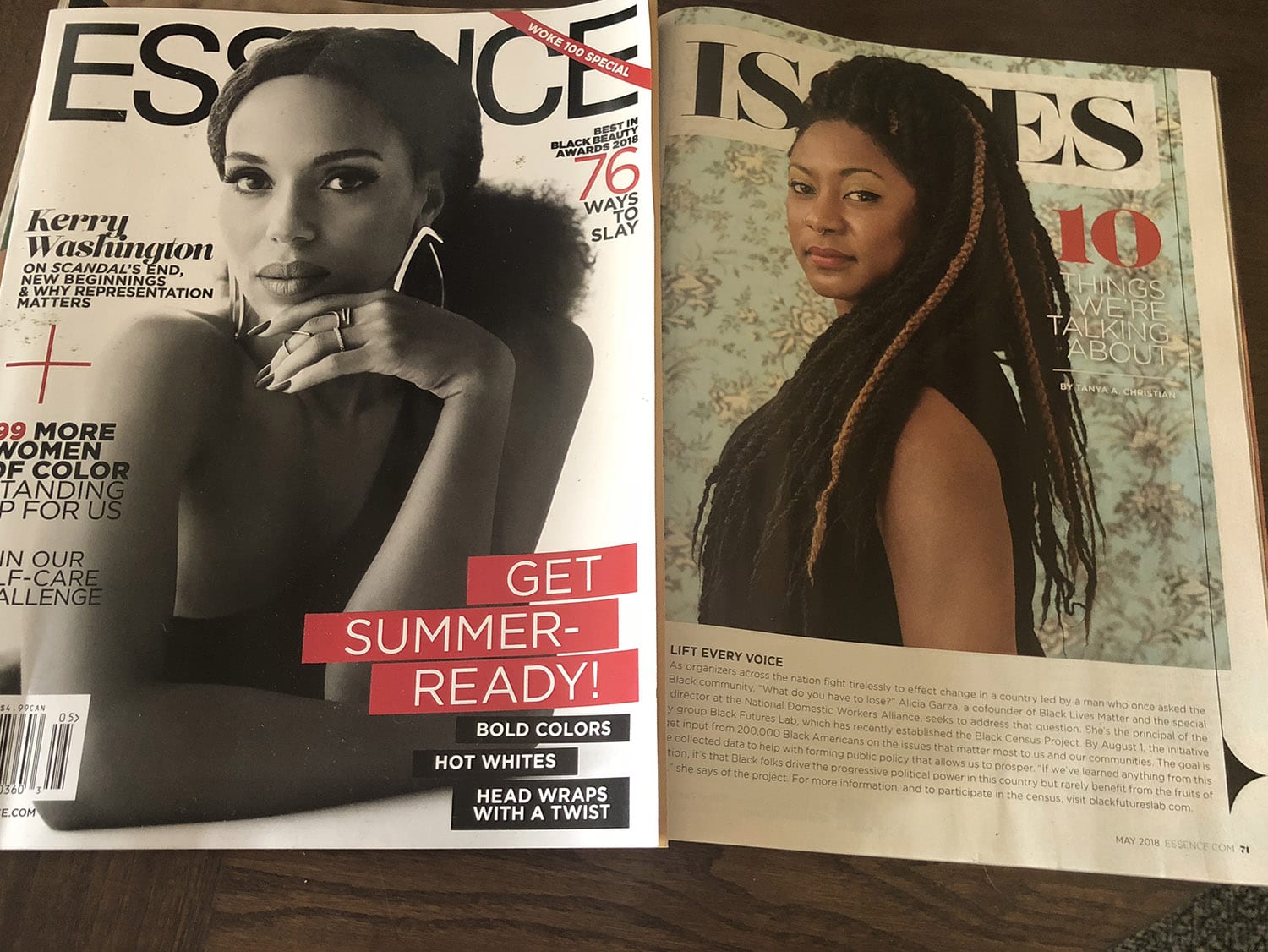 Our friends who used their own extensive platforms to lift up the Black Census project
"Black people must have a real voice in politics – the @blackfutureslab is making it happen.  The #BlackCensus Project want to hear the opinions of 200,000 Black people across America. Do me a favor and take it now: blackcensus.org" #MyFutureIsBlack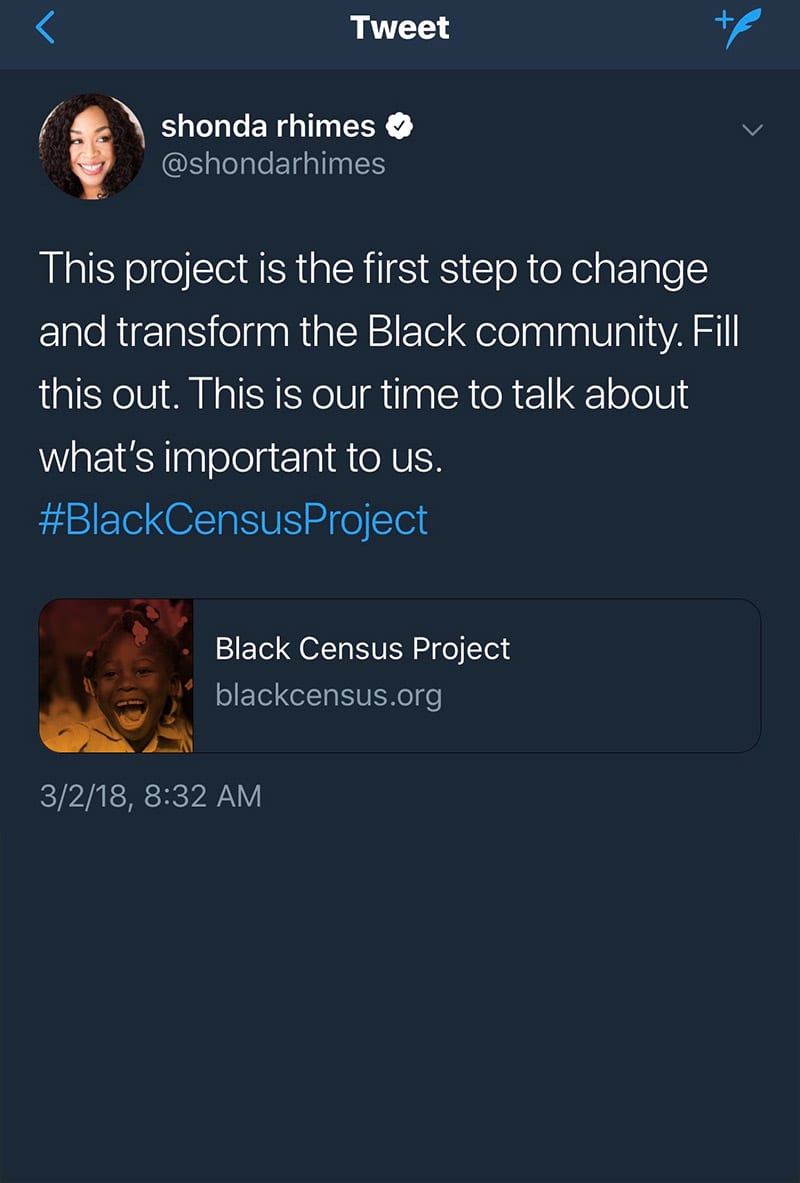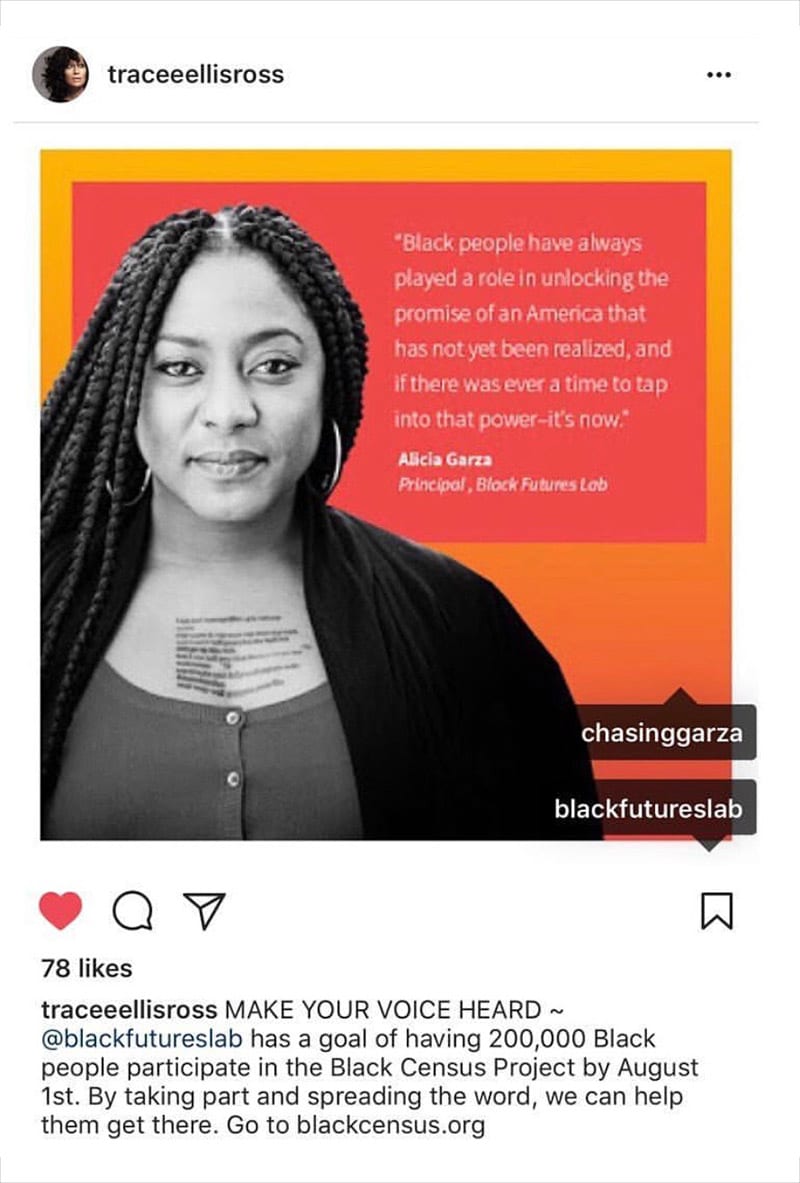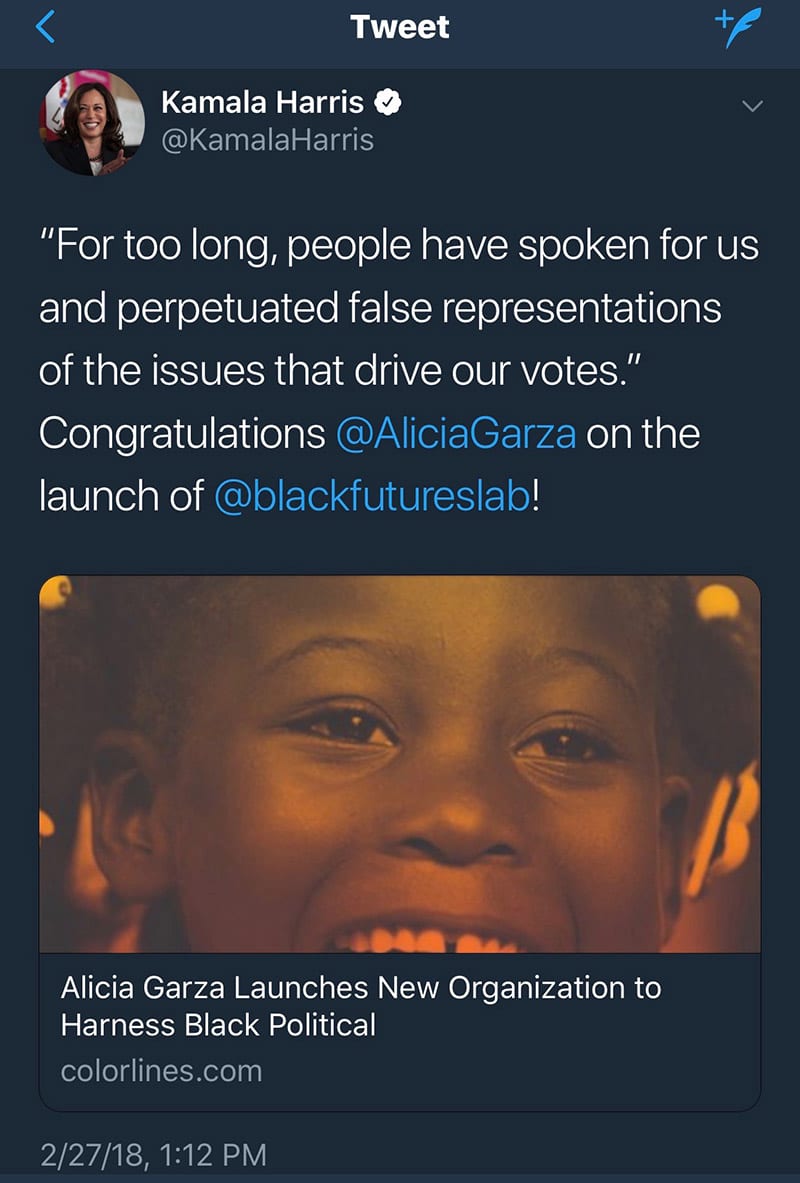 This month, we've got Common, Van Jones, and Congresswoman Barbara Lee on deck to put the Black Census on blast!
WHAT'S COOKING AT THE LAB
TRAINING BLACK ORGANIZERS
This week, the Black Futures Lab kicks off our first ever Black organizer training! We're training 100 Black organizers to administer the Black Census in 20 states across America. To date, we've formalized partnerships with more than 36 Black led organizations who want to build a better future for and with Black communities.
Our very first training kicks off this week in Detroit, Michigan, with 25 Black organizers hungry to learn about building power, and learning how to take the survey into our communities. Stay tuned–we're excited to tell you all about how it went!
We even got some new swag for our Black Census partners! One of our shirts is emblazoned with a quote from one of our new friends in Youngstown, Ohio, who sent us a donation in honor of their parents — "To God be the Glory."
BLACK FUTURES LAB IS GROWING!
The Black Futures Lab is a small but mighty team of 4 — and we're looking for folks to join our team! We're hiring for an Executive Manager — have anyone in mind you think fits the description? Encourage them to apply!
In the meantime, check out our team here.
KICK OFF CELEBRATION…COMING SOON!
As we prepare to send 100 Black organizers in to the field, we're planning a party to celebrate the kick off of our field program, and to showcase our brilliant partners across the country! Look out for a Save the Date — and get your outfit together!
TAKING SOCIAL MEDIA BY STORM
We're working hard to build our digital presence — and we need your help!
We made a short video talking about the Black Futures Lab and the Black Census Project, and we're excited to share it with you!
Can you do us a solid and share the video on your social media platforms?
Here's some sample tweets / Instaposts / Facebook content to help you on your way:
Twitter:
Check out @aliciagarza talking about the @blackfutureslab and why Black people deserve what everyone deserves–including political power. Blackfutureslab.org
The @blackfutureslab is a new project to build independent, Black political power in cities and states. Will you join us? Blackfutureslab.org
Facebook:
Black people deserve what all people deserve — including political power. Find out more about what's cooking at the Black Futures Lab. Blackfutureslab.org
Building Black political power in cities and states?! Sounds right to us! Check out Alicia Garza talking about the Black Futures Lab and the Black Census project. Blackfutureslab.org
Instagram:
Black people deserve to be powerful — and the @blackfutureslab is looking to build that power for ALL Black communities. Check out Alicia Garza breaking down what we're doing and why we're doing it. Blackfutureslab.org
The problems Black communities face are complex — and the solutions to those problems require imagination and political power. Learn more about the @Blackfutureslab here! Blackfutureslab.org